WHO is delivering THE COURSE?
Course author
Mikhail Fedorov
I want you to move up the Bridge at the maximum speed!

auditor
ОТ48
ОТ Levels C/S
Class VI Auditor & C/S

SCIENTOLOGIST
Scientology books publisher
Active promoter of the Clear Body-Mind Program
The "Theta-Flow" International Conference Coordinator

RADIO ENGINEER
Engineer, specialty
" Radio-electronic systems and complexes"
Graduate of Bauman Moscow State Technical University, 1997
Founder of the project "Theta-Meter", the No. 1 Free Zone e-meter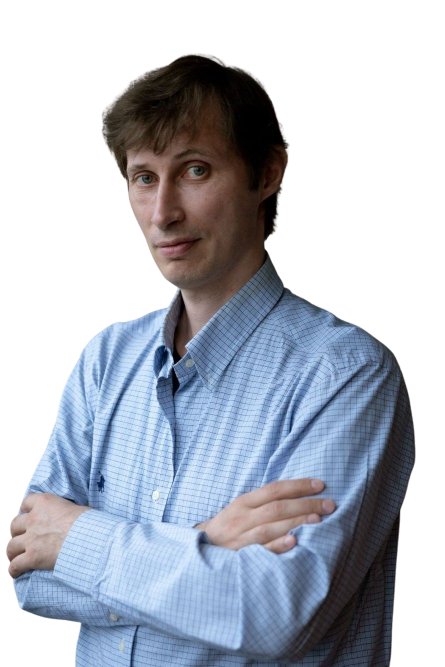 How do you study on the course?
Theory
Online lectures and practical tasks are waiting for you. After paying for the course, you get access to an online school and an online chat. A live webinar is held on each topic of the course. You can ask questions about the lesson topic, tell about the results and share your successes In the comments to the lesson..
practice
For the best result, you should practice on your own the processes that you have learned on the course. You can share your achievements and questions that appeared during the process, using for that the comments section of the lesson, so your questions could be addressed at the next webinar.

home work
The course is oriented to be completed in approximately 2 weeks: 6 online classes of 1-2 hours + personal practice daily. Reviewing the lesson, you can practice at your own pace, as you like. Within 30 days from the start date of the course, you will have access to the course materials and have the opportunity to ask questions to the author.

check out and correction
Each lesson is an online meeting where students of the course talk about their results, ask questions and share their successes. After that, a new topic is revealed. You can also ask questions and get answers in the group's online chat.

Progress on the Bridge slowed down
You are not moving up the Bridge at all
The auditor can't help you to handle the charge
You don't know how to help your PCs rapidly and effectively
There is a large amount of charge that needs to be addressed
You'd like to learn how to prevent the occurrence of a by-pssed charge
There is a desire to dig deep and understand the basics of Scientology with the OT48 help
OMNI Processing. LIFE REPAIR
Course starts when the group of participants is formed
OMNI Processing 
Success Stories 
Speed and efficiency
Speed and efficiency – OT style! Real repair OT and for OT!
I received tremendous pleasure from the principles, processes, results and from the realization of how this is on time! Thanks Michael! 

Alexey K. 

---
The webinar turned out great
The webinar turned out great. It worked out a lot of charge. In general, any state in one's space can be healed from an pan-determined state. And this happens much faster than if you do it from a normal state. Therefore, the use of Pan-determined state makes it possible to accelerate greatly as-ising of any undesirable states. Thanks to Misha and all the participants. It was great to see participants and handle all the accumulated charges. 

Alexander Sh. 

---
It is very effective!
I got huge wins. It is very effective. Thank you very much!!!! 

Svetlana Z. 

---
OMNI Processing. LIFE REPAIR
Course starts when the group of participants is formed
OMNI processing. Life Repair Course

- I am confident in the present tense;
- became myself (erased valances for 1D., 2D., 3D.,);
- exteriorization after each session is stable;
- the desire to be audited and trained has returned;
- the desire has become passionate, the speed has increased significantly;
- became lighter, lively, fast, quick-witted;
- I get enough sleep twice faster;
- heavy food (like a sandwich with meat, cheese, butter) is absorbed easily and efficiently, without causing more heaviness and poisoning (as before OMNI auditing) ;
- came out of the PTS condition and recovered, settling with OMNI lasted less than a second! It immediately turned the weakness and catarrhal somatics off, there was energy in the body!
- the needle sensitivity setting decreased from 5.0 to 0.4! The arrow became so fast and lively that I had to increase the inertia to see it on the scale. TA became mobile;
- I learned to handle TA if the charge was restimulated;
- got out of some compulsive heavy games, erased the GPM "maniac-victim" - took an incredible amount of charge;
- I learned more about the e-meter and the nuances of working with it;
- I learned how to introduce rudiments: to handle ARC breaks, Missed W/H, missed charge;
- Erased a lot of Secondaries and ingrams;
- I learned to feel and understand if the charge was restimulated and immediately erase it right there ))) ) ;
- I became much more confident in myself;
- it has become easier to grant Beingness to people not to enter compulsively into the game of "overt-motivator", because I know how to easily and quickly handle myself;
- I realized that the Bridge is available to me and becoming a Clear in the near future is real;
- I live more in the future than in the present, I plan less, I act more;
- increased efficiency, stable in a tone of high interest, when communicating I want to have fun, a sense of clean space around, a clear mind;
- I began to understand, if I slide into a valence, I realize whose this valence was and immediately erase it;
- the speed of learning and understanding of the material has grown incredibly!
- the behavior has become much more self-determined;
- now, in order to feel healthy and energetic, I do not need a doping in the form of sports, oxygen and fruits. The vivacity of the body and spirit are not lost without training;
- When communicating with me, people have much more affinity, they tend to embrace me; it's nice )))
My condition has returned to the state of 20 years ago and has become much better;
- I began to feel enteta more sharp and reject it from self with a categorical attitude;
- became more open and truthful in communication;
- it is much easier and faster to reach the goal;
- I have become self-determined in relation to my condition, I can control it and handle it in any place and at any time;
- 10 years after ... different stuff, my husband got a wish to be audited, while looking at my results and after handling the charges: on his own, from the first try of the OMNI state, he erased numerous incidents, stopped dramatizing them, communication on the hot topic became not interesting, antagonism disappeared. He is exploring the e-meter and OMNI technology to start his journey up the Bridge!

Thank you very much, Mikhail! OMNI technology is amazing!!!

With gratitude, respect, and a huge ARC, 
Irina Strukova.
Sign up for the Course 
OMNI Processing. Life Repair
Course cost
$450 
Discount for the first 10 students $100 
Get on Course today for $350!
© 2021All rights reserved.